Discussion Starter
•
#1
•
Mr. Grey is a gentle kitten who is the largest one.
Fireball (female) AKA Waterballoon because feeding her feels like filling one when her belly is held.
Cream puff is all claws when he is eating, but is so funny and does alot of posturing when he plays rather gently.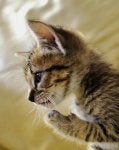 Screamer is a sweet kitten who loves all sorts of attention. He literally screams bloody murder to the point where the others will try to compete with him but don't stand a chance. He was very sick for a while and needs to gain some weight.