Discussion Starter
•
#1
•
So I've had my first bengal for a year now and he's getting along great with my adopted cat I've had about 3 years now. It took some time but I was shocked when I saw Keet cleaning Tucker. Lately Tucker has not been as moody toward Keet which is relief. Here some pic's and video.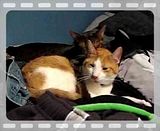 We played a video of when Keet use to growl over a piece of chicken and before I knew it Keet was on the desk checking himself out on the screen.
I was a bad mom, accidentally left a brand new bag of powder sugar out when I went to work and came home to Keet looking like this, what a mess.
Loves watching the birds all day long.