We've had the door open for two days and one night now with both cats interacting. No fights - rarely any hissing, Satin only hisses when she gets tired of Tuffy invading her space. He follows her everywhere she goes - pounces on her, and acts like she is a new toy I got just for him, a real live toy! It's rather funny to watch actually. Here is a photo I snapped last night while hubby was getting them both to play with a wand toy. They interact pretty well I think for being so new to each other.
In this one I caught Satin looking up - watching the wand toy - shows the pretty markings on her neck.
And here again watching the toy - very alert as you can see -
She sits so pretty when I find her sitting still, which is not often, when she wants to nap she's been going under our bed, and Tuffy stays with me. I'm not sure if she chases him out from under the bed or if he just knows that she needs time out - I haven't seen her chase him but then I don't have my eyes on them every minute of the day.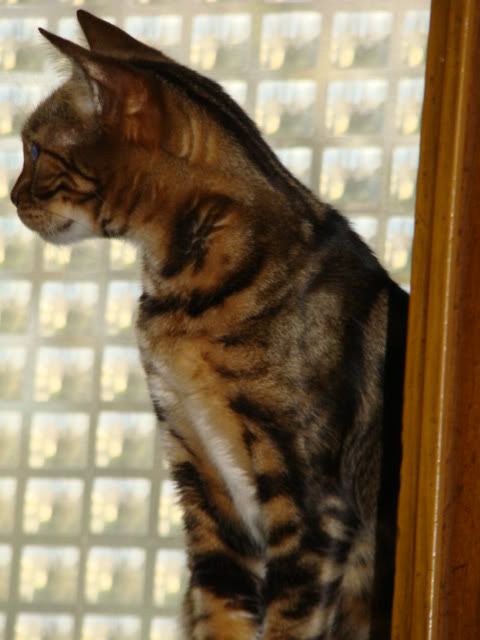 Here is one showing Tuffy following Satin, I think she gets abit tired of it but has been very patient with him.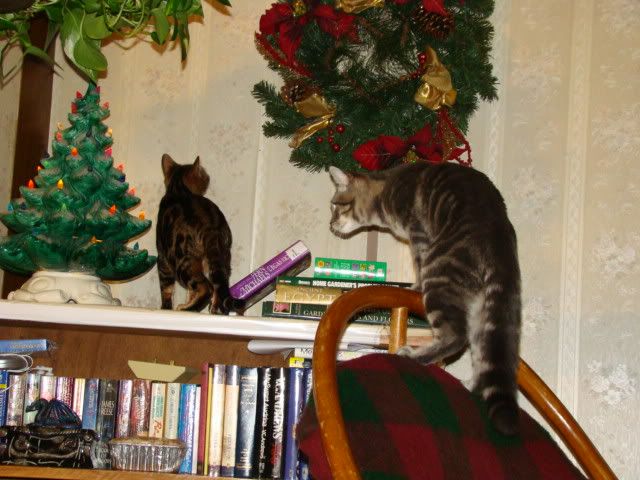 And finally, a picture of Tuffy yesterday morning helping me look for the chicken stock..
So all in all it's been going pretty good. Satin plays with Tuffy or us with a wand toy, but still does NOT like to be approached or touched in any way. I've been just letting her roam free - hoping she warms up sometime to us - trying to be patient!