Discussion Starter
•
#1
•
I'm new, so I thought I'd post a few of the kitten pics I could muster!
This is Lyra: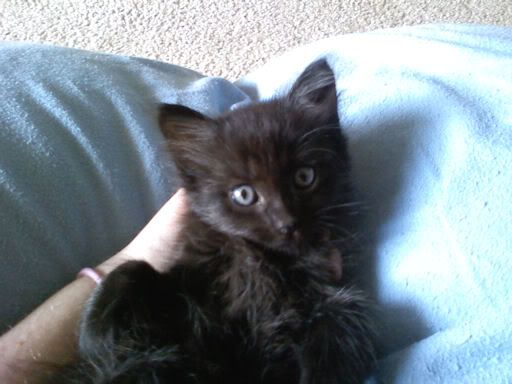 Originally sexed as a boy, she has been Lyra for two days, she was previously known as Darwin. The vet let us know my boyfriend was wrong about the boy thing! Poor Lyra.
She is our bigger kitten. She was the biggest of the 5 littermates. She does everything first, and despite being feral, was friendly, curious and pet-able from the beginning. She loves to climb, and to try jumping from one place to the other. Unfortunately, she isn't the most graceful kitten.
Vega: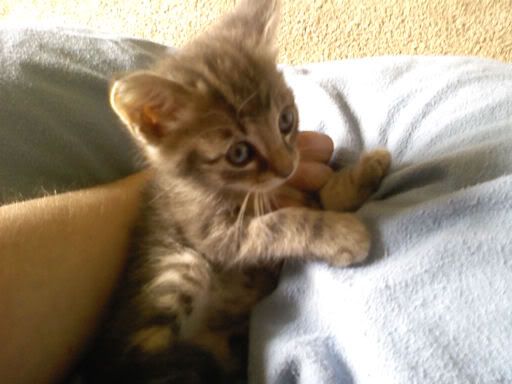 She was the runt. At around 8 weeks, she weighs more than a half a pound less than Lyra. She is the spitfire. She liked to hiss and spit and just put on quite a show for anyone who would get near her. NOW she is super friendly, and my boyfriend can't do anything without Vega. When he's home, her bed is his lap, and she requires petting all evening
The two kitties are inseparable. They don't meow at night at all, and we keep them shut in our bathroom. As long as they have one another, they're happy. They are never out of sight of one another. They'll explore the house and as soon as one realizes the other went a different way, they'll start meowing (or in Lyra's case--meeping, she has no meow) until they are reunited.
More pictures: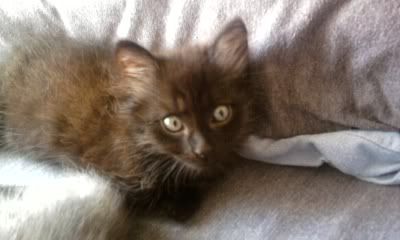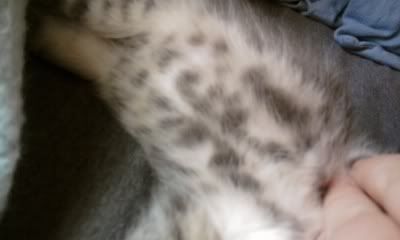 The last one is Vega's tummy spots. Her legs are tiger striped and her tummy is spotted. She's very pretty. I thought the vet was going to steal her.
Thanks for looking!