Discussion Starter
•
#1
•
We got Pennie on Sunday (we were gunna call her Christie but liked Pennie better). She is so sweet. She and Amie get along well, but Gracie still doesn't like her, but she'll like her soon, she hissed at Amie for about 2 weeks when we got her and then liked her. We took a lot of pics of Pennie, Gracie and Amie, but i gotta put them on the comp, which ill do soon.
For now, here's a pic of Pennie we got from her breeders website: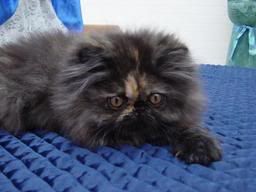 She's a lot smaller than she looks!
~Kitty~ and CatzRule