Discussion Starter
•
#1
•
Peridot's Story
Peridot was special from the start. I knew him when he was still in the womb. It was the middle of summer when I saw his mother outside my window and found her behavior odd. She was digging around a garbage can and snatching items away then coming back for more. As I walked outside to get a better look it hit me as to what she was doing. She was building a nest out of trash, underneath a car. She was
very
pregnant. Her belly practically touched the ground. I quickly grabbed a carrier and whisked her away to the shelter. She was frail. You could see every bone in her back. We named her Sapphire.
Two days later Peridot arrived with the rest of his litter mates. There were 10 total and he was the runt of the litter. The vet was honest and said she would be surprised if any of the litter survived. They weren't premature, but were barely the size of my thumb. Sapphire had exactly 5 tabby babies and 5 lynx point siamese, just like her. The litter was much too big and Sapphire was much too malnourished to take care of them all alone. My duty was to help supplement them. I would come in regularly on the dot to start feeding and help potty babies. But oh Peridot, he refused my help. He was going to do it on his own! But Peridot was also having a hard time getting to milk. He was much weaker then his siblings and by the time he got to mama there would be hardly any left. He worried everyone, including the vet who spent hours with him trying to feed him and get him to latch on to mama. She wouldn't give up on him, and neither would we.
The weeks went by and with each one a new death. We would come in and find the strongest kittens of the litter dead in the corner. 5 weeks had passed and we had lost 4 kittens. Yet Peridot grew. He continued to be much smaller then the other kittens and much weaker. But his blue eyes blazed with determination. He would try his hardest to play with his brothers and sisters. His greatest wish in the world, however, was to cuddle with his human friends. He would purr and purr as he wiggled into a comfy spot by your face, meekly reaching over to give short kisses. No doubt about it, Peridot was special.
When the time came to separate the kittens from their mama we made the tough decision to keep Peridot with her. He wanted so bad to play with them, but he needed a little more time with mama to grow and have her milk. He began to get a little stronger. And with his strength came an eagerness and zeal to experience more life, to play and run and have more cuddles. We decided to move him with his brothers and sisters. You would have thought that we gave him Christmas. Finally he was a big boy.
3 days later I came in with breakfast, excited to see Peridot. I turned around, and there I saw him. He was laying in his water bowl, the only thing above water was his head. His organs had collapsed, his eyes glazed over, and he was barely clinging to life. I was horrified. I rushed over to the cage and gently lifted him out of the freezing water and wrapped him in a warm blanket. He was in pain, rasping with every breath. His eyes were far away and begging to be released from life. I waited for someone to bring me a car to take him to the vet to free him from his pain. I kept him close to me, trying my hardest to put warmth back into his body. A look of horror and pain painted his face. I sang to him, trying to keep him calm. I soothed him telling him how beautiful he was, how special he was and that it was okay to let go, that on the other side he would be happy with lots of friends to play with and soft grass to run in. I would not let myself panic or feel the hurt of him dying, he needed my comfort and love. He screamed in pain as he tried to breath. Peridot passed away on the way to the vet, the look of sheer torture and horror forever frozen on his delicate face.
This is the reality of pet overpopulation. There are thousands of Peridot's dying every day in America. Thousands of mama's that are abandoned or never had a home because there are more cats then homes that want them. Somewhere along the line the homeless and unwanted cats came from someone's pet. Sapphire should never have been abandoned on the streets to be pregnant. Five of her kittens survived and that was a miracle. For every needless litter born we only create more Peridots, more deaths and suffering that are pointless and should never have been. It isn't about depriving people of the joy of seeing their cats raising kittens, or about money, or about it being the responsible thing to do. It is about life and death, about granting mercy to a little soul like Peridot. Give the most loving and compassionate gift you could give your cat. Please spay and neuter.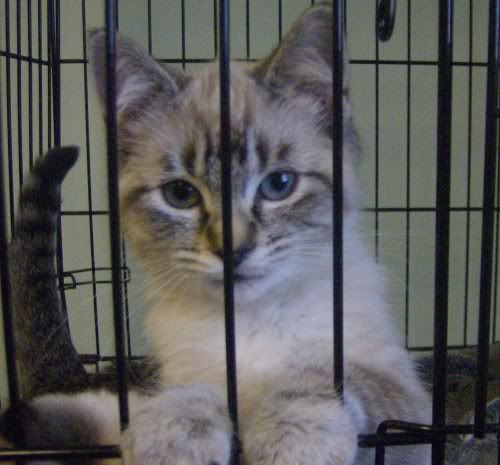 Peridot's brother Zircon.