here's Lacey
(my new 6 mos old traditional seal point Balinese female):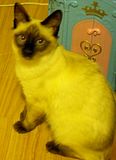 She arrived last night at 5:30 pm and we finally got home around 7:30 pm from the airport. She was a bit skittish at first, having gone through all that, but once she settled down, she was very sweet and friendly. She was all over the place, but seemed a bit nervous when she heard my other 2 cats approaching behind the door and would sometimes hide.
Sorry about the bad quality, but she's not a very still subject, not to mention the lighting in that room is rather dim. Once she's not confined anymore, I can take better pictures.
Right now, we are just over the moon!
and the piece du resistance:
Click on the picture to see the video